The following is an excerpt from "Canada's Strategy for Patient-Oriented Research: Improving health outcomes through evidence-informed care".
1.1 What is Patient-Oriented Research?
Research focused on patients is the cornerstone of evidence-informed health care, a relatively recent concept of clinical care that was largely pioneered in Canada.1 A recent survey undertaken by the British Medical Journal of its readers placed evidence-based medicine as one of the top 10 medical advances of all time.2
Health care professionals and policy makers need evidence to deliver high quality, appropriate and cost-effective care. This requires the timely and efficient translation of research innovations from the research setting to patient care settings. It also calls for the evaluation and synthesis of existing knowledge and rapid transfer of what is already known to the clinical setting. For instance, the use of a simple 19-item checklist developed by the World Health Organization has significantly decreased deaths and complications in routine elective surgeries in Canada and around the world.3
Patient-oriented research refers to a continuum of research, from the initial studies in humans to comparative effectiveness and outcomes research, and the integration of this research into the health care system and clinical practice. It includes studies of therapies, diagnostic tools, pharmaceuticals, and prevention strategies as well as comparative evaluations of those interventions against each other and against existing practices. It concludes with the synthesis, dissemination and integration of evidence into the health care system and clinical practice. Patient-oriented research thus encompasses both clinical research and health services research, the synthesis, dissemination and integration of this new knowledge into the health care system and into clinical practice.
Patient-oriented research focuses on the care of patients in the health care system as opposed to research focused on whole populations, although there is little question that health outcomes are a function, in part, of social determinants and that there are strong synergies between patient-oriented and population health research. This fact speaks to the critical need to continue to advance population health research in Canada and to create strong bridges between researchers in these two fields.
While patient-oriented research begins where basic biomedical research and pre-clinical studies end, both are equally essential and necessarily complementary. In fact, the flow between basic biomedical and patient-oriented research is bi-directional, as observations from patient-oriented research can generate new questions for basic biomedical research.
While a major focus of patient-oriented research is on new discoveries, an equally important focus is comparing new discoveries with existing therapies (Figure 1, right box) to determine which interventions are most beneficial as part of usual care. This "comparative effectiveness research" complements studies designed to demonstrate the efficacy and safety of new drugs or devices prior to their initial use in clinical practice (Figure 1, left box).
Patient-oriented research can be conducted by clinical researchers from all health care professions (e.g. nursing, medicine, dentistry, chiropractic, pharmacy and physiotherapy) by clinical epidemiologists and as well as by non-clinicians (e.g. biostatisticians, health economists, anthropologists, sociologists and behavioural scientists). Patient-oriented research can be undertaken in all health care settings: primary care, tertiary care, long-term care, home care or community-based care, wherever patients seek and/or receive care.
The relatively new nomenclature of "patient-oriented" research connotes a higher level of engagement of the patient in the clinical research and knowledge translation process. Indeed, there is growing support for the view that health research needs to assess interventions and outcomes considered important by patients and clinicians and that by doing so costly mismatches of research-to-needs can be avoided. The valuable input of patient groups is starkly illustrated by their contribution to the rapid development of antiviral therapies for HIV.4
Figure 1: Processes for Developing versus Comparing Clinical Interventions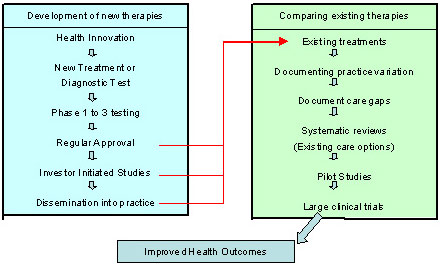 Figure 1 outlines the chain of steps for proving that a drug or device saves lives or decreases morbidity. The step-wise process often requires 15 to 20 years for new interventions and 5 to 7 years if comparing existing therapies.